December 02, 2022
Our Grierson DocLab In Focus: Editing group were generously gifted G-DRIVE external hard drives to help with their training
Read all about their experience with the hard drives and see each of their at-home workstation set ups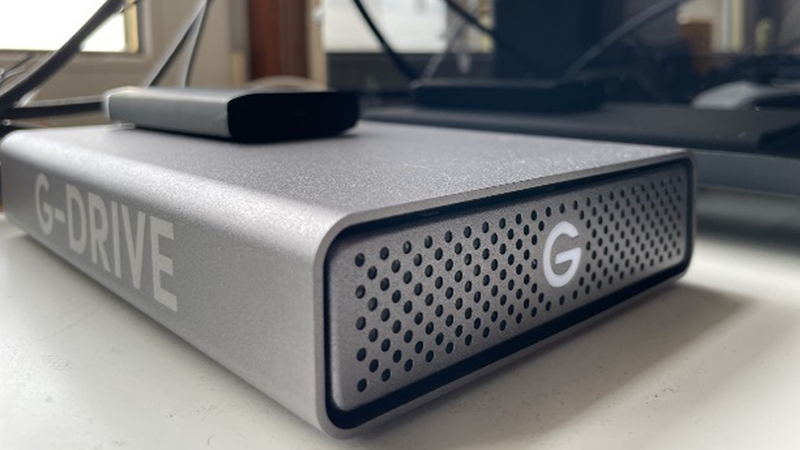 Thank you to SanDisk Professional from Western Digital for the gifted G-DRIVES for our 2022 editing trainees.
Will Hewitt
The G-DRIVES we were provided with for the Grierson DocLab In Focus: Editing scheme were a great choice – being as capable as those used in the rest of the industry. We had 1.14 TB of material provided, which included 25 hours of rushes we had to watch in a short space of time. This task already felt quite high pressure so it was reassuring to know we wouldn't be delayed by any of the hardware. I initially started the viewing from the 6TB Desktop G-DRIVE enterprise-class, and the rushes played back on AVID Media Composer without any lag at all. I went through my initial log remaining on the 6TB drive.
When it came to cutting, I decided to test out the 4TB G-DRIVE Ultra-Rugged, Portable External NVMe SSD. (It's worth mentioning that one of the reasons I started viewing the rushes on the desktop drive was because the SSD couldn't be read on the provided HP laptop from Gravity Media. I'm a PC user and it worked on my desktop and personal laptop, however not the provided laptop for the training.) I reformatted the drive a few times into exFAT and NTFS, but the results didn't change. The solution was to format the drive within a MacBook which resolved the issue, but this isn't an ideal solution as a PC user, I had to ask around to find a MacBook which took a couple of days.
I've never used an SSD before, mainly due to cost reasons, but had heard they are super-fast and efficient. When I did the initial transfer from the Desktop drive to the SSD, I was not disappointed by the speed. I've been editing for 10 years now so I know roughly how long it takes to transfer 1.4TB between drives, and this was impressively quicker. I can't help but think I could have left a lot of shoots half an hour earlier if I had been backing up onto an SSD. Once into the edit using the SSD, it lived up to its reputation – there was no lag at all, even while quickly flicking between project bins of 4K footage. The other huge advantages are the portability of this drive and it not requiring any power input. During the last two days of Grierson training that was held in Birmingham, I was able to slip the SSD into my hand luggage and travel with it no problem. My film was finished and uploaded online, but it was confidence-building to know I had the project there and ready to go should I need to open it up.
I'm thrilled to have the two drives in my arsenal. They complement each other well – using the SSD for editing and the Desktop Drive as a project back up. I'm grateful to have them and it's going to make my work as an editor easier going forward.
Iqbal Khokhar
I am already incredibly reliant on my SanDisk G-DRIVE 4TB SSD and SanDisk G-RAID provided by WDC to support me in my journey from Assistant Editor to Offline Editor. I was familiar with both storage devices, as they are the industry standard for safely and reliably storing media. It is great to have separate devices to manage the vast amounts of media I deal with on a daily basis. I feel comfortable knowing if I need to travel with my drives, they will be protected by a durable and shock proof material.
Athina Chatzidaki
SanDisk Professional G-DRIVE SSD impressed me from the moment I unpacked it. It has a very compact and tasteful build. It easily found its place on my desk, which cannot be taken for granted when it comes to storage solutions. Support of USB-C and high rates of data transfer make the experience of working with the footage on it smooth. The fact that it's rugged provides an extra incentive to use it whether I need to use an SSD on the go or transport the footage. This piece of equipment quickly established itself among the essentials I use for work.
SanDisk Professional G-DRIVE fulfilled its purpose and proved dependable in terms of performance – the data transfer speeds are sufficient for video editing purposes. HDD technology remains a reliable storage solution, although limitations exist in terms of transferability and general flexibility of use as it requires external power supply. However, it remains a powerful and affordable option especially if used for storage or archiving purposes.
Samantha Keon
The SanDisk G-DRIVE was very straightforward to set up, meaning I could access my rushes and get to work straight away. Both devices are sturdy and well-built, but the smaller SSD drive seems particularly durable, which will be useful when travelling between post houses and working from home. Another useful feature of this smaller drive is the encryption which will help me keep sensitive rushes safe on the road. While I am yet to move files between the two devices, the transfer speeds seem impressive, with the G-Drive able to move up to 50GB in under 5 minutes and the G-Drive SSD moving 50GB in 1.5 minutes or less. These fast speeds will help immensely when backing up the vast amount of footage generated in making a documentary. A huge thank you to Western Digital for setting us up with these fantastic pieces of kit!
Cleo
Using the 6TB SanDisk G-DRIVE for my secure primary set-up during my edit has been great. It's robust, secure and even supplies power to my laptop through the USB-C port making my space more streamlined.
As I have access to a desk space on certain days of the week, I need to be able to move my edit suite with ease, which is where the dinky SanDisk G-DRIVE SSD came into its own. I was able to move my entire edit onto this super lightweight 4TB and move across to a new space with my laptop barely adding any weight to my work bag. Its minimal rubberised design meant it was secure once plugged in and didn't self-eject or get knocked out of place once during my edit. I'm grateful to have been able to use a combination of these SanDisk drives and see myself staying faithful to the set-up in the future.
Phil
G-Technology is unbelievable. Honestly incredible. I've dabbled with it with it before but having full access to it and using it over these last couple weeks has only further fuelled my evangelism for it. It copes effortlessly with intense project files and media, copying and previewing media over is a dream, it does all the hard work it needs to, to make your job 1,000% easier.
I can wholeheartedly say that there's no going back for me – it would be counter intuitive. If I had it my way, this would be all over every editor's house and suite.
Editing 2022 G-Drive Images
The Grierson DocLab In Focus: Editing trainees' G-DRIVE editing station set ups.