November 02, 2022
Read all about the online and in-person training the 2022 editing group undertook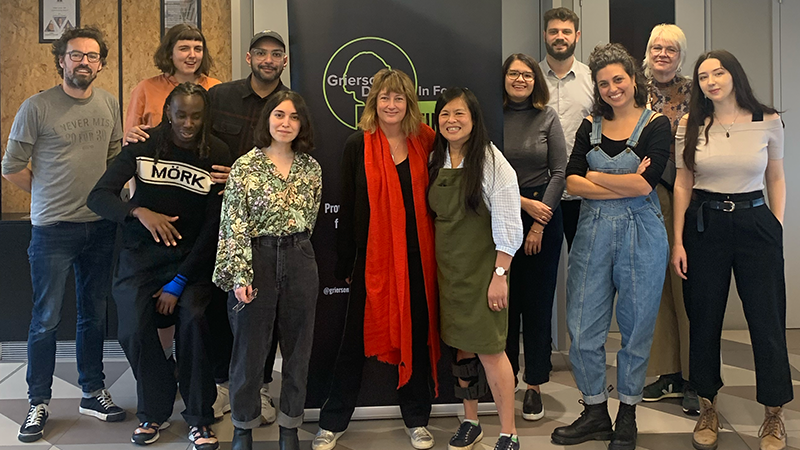 2022 Grierson DocLab In Focus: Editing trainees with lead trainer, Claire Ferguson and Director of Training Programmes, Yen Yau, plus Grierson Trustee and editor, Andy Worboys.
Online
Iqbal Khokhar 
Day 1 – Saturday, 17 September
I was looking forward to the first day of the Grierson DocLab Editing programme. Yen had arranged introductions and some light training the previous week, which helped alleviate the lingering anxiety of the first day of a hectic but exciting schedule. The day began with a breakout coffee room on Zoom. It was lovely to speak to everyone before we started the training – it felt a bit more natural. Of course, nothing beats in-person, but we made it work. Luckily, we do not have to wait long before we meet each other as we have in-person training next week!
Once we were all settled in the training room, Yen promptly began telling us about the training week and what the schedule involved. This set the expectations for the week as it was an interactive induction. We shared and discussed how we were all feeling about the coming weeks and the programme as a whole. Everyone was open and honest about their feelings and what they hoped to gain from being an editing trainee.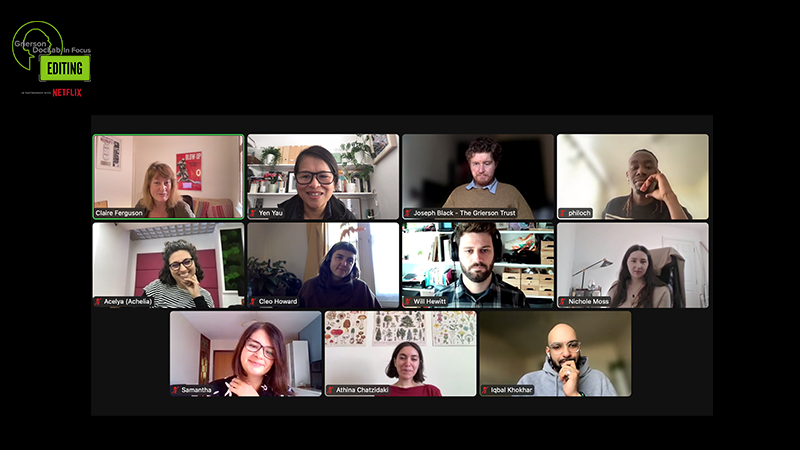 This induction was followed by a discussion from our key trainer for the week, Claire Ferguson. Claire is an experienced editor and has worked on a range of documentaries, such as Aileen: Life and Death of a Serial Killer and Who Killed the KLF? It was fascinating listening to Claire discuss her career from its very beginning, and it offered an enormous insight into the intricacies of being a film editor and how to overcome some of the challenges that will inevitably come our way. Claire's discussion felt passionate and created an excitement and buzz for the week ahead.
Following on from Claire, we had in-depth training from Dennis Mabry, an experienced editor, who has worked with Claire previously, and has worked on Drive to Survive on Netflix. It's a docuseries I am obsessed with, but I managed to play it cool when listening to Dennis speak about his experience working on the project. Dennis explored the role of the Assistant Editor and provided useful tips and tutorials on navigating Avid Media Composer.
The knowledge and training provided today has set us up for the task given to us at the end of the day: We were given a brief to create a 12-minute short film using rushes supplied by Netflix. We have complete creative control over our short films, which is exciting and a little daunting, but I am looking forward to implementing the knowledge and experience gained from Claire and Dennis. It was an intense and long day, but it was worth it. Everyone in the training group was involved in the discussions throughout the day and the energy levels didn't dip. I can't wait for the next session and to see everyone's interpretation of the brief!
Phillip Olweny-Ochwo
Day 2 – Tuesday, 20 September
The day eased itself in – Claire Ferguson opened it up with an amazing talk, full of ideas and notions on what to consider when making decisions as an editor, as well as an overview of the entire editing process. There was a lot to take in, definitely things I hadn't ever considered before… It's fair to say at this point I'm feeling the intensity of the scheme, but am absolutely ready for all there is to come and learn.
We uncovered more about Avid with Nigel Honey in the early afternoon, I had a lot of fun investigating the colour grading and sound mixing features it offers.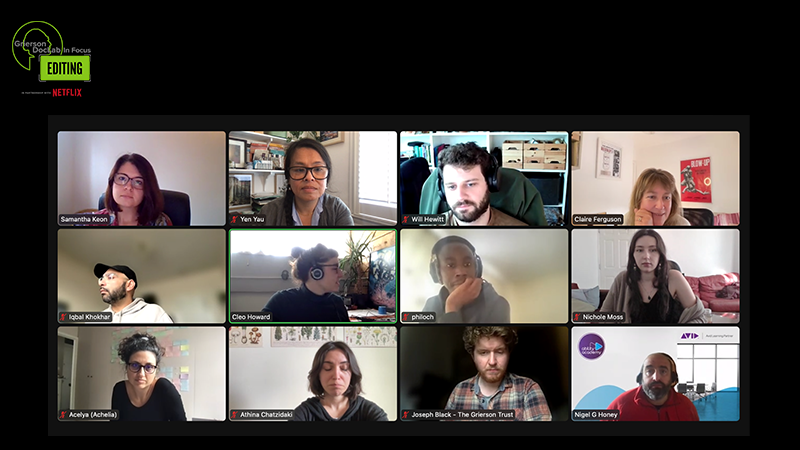 After our lunch break / coffee break, Chloe Lambourne graced us in the afternoon and broke down her time editing For Sama. She was super cool, and you could tell by the Zoom gallery screen that we were all mesmerised by her words. For Sama is an incredible documentary; it features a lot of personal, political, and sensitive imagery and topics, so learning how she approached and handled this material was very eye-opening. Also, discovering that this was edited in an empty church added so much colour to the process.
Her discussion was very important, as it allowed us to also learn about how one copes with graphic and potentially traumatising material. A lot of what made the cut was incredibly graphic, and she had mentioned there were rushes that were more disturbing which they had to work through. Having a discussion on how to take care of yourself when faced with a project like this was illuminating and definitely something I wouldn't have considered without this panel. Again, Chloe was super cool, super down-to-earth and she really took the time to answer all of our questions and all her answers provided us with so much to reflect upon. So grateful for this discussion.
As the day wrapped up, all we had learnt was put to practice, as we re-approached our 12-minute cuts once again. It was a very inspiring day, fuelled by coffee. I think my biggest takeaway was the importance of storytelling and the methods we have to improve the stories being told: What is each cut doing? What is moving the story and what isn't? A constant interrogation of our work.
Acelya Kancelik
Day 3 – Wednesday, 21 September
What makes you get up in the morning? It is a question I usually struggle to answer. But not this week.
On this third day of the training, I woke up before my alarm went off – questions running through my head. Questions that are the result of the first two days of training. So much to unpack and reflect on. All the new knowledge I get leads to more advanced questions. What a pleasure to know that the people who can answer those questions will be with me today. I feel I am in safe hands.
As well as the questions, I had ideas on my mind when I woke up today. Ideas that intrigue and excite me. They are for the short film we are editing this week. I cannot wait to sit down and try those new ideas to see if they work. There are still 2 hours before the training so that's what I will do: edit.
I love seeing the happy faces on my laptop screen when the training starts. I never met these people in person, they are just portraits on my zoom window, but there is already a strong bond. I know I will miss this lot when the training ends.
Today, Claire talks to us about genres in documentary filmmaking. I love how passionate she is about what she does even after years in the industry. We talk through tragic documentaries, rom-coms, thrillers... We watch examples and analyse them. I was right about being so excited when I woke up this morning, I can't think of a better way to spend my Wednesday.
Later in the morning, Jonny Taylor from Netflix joins us. One clever question from one of my fellow participants is "What do you look for when you're watching a rough cut in the edit?"
Jonny's answer is so simple it makes me laugh: "Only two things," he says, "Is it boring? Does it make sense?" And then he tells us about corner-stone films that changed their genres, another piece of knowledge I never knew existed.
In the afternoon, Rupert Houseman, the brilliant editor of Chernobyl - The Lost Tapes, joins us. He is not only a brilliant editor, but he also must be a stand-up comedy artist! He makes me laugh until I cry! He talks us through his journey with Chernobyl and gives us invaluable insight into how his assistant editor supported him during the edit.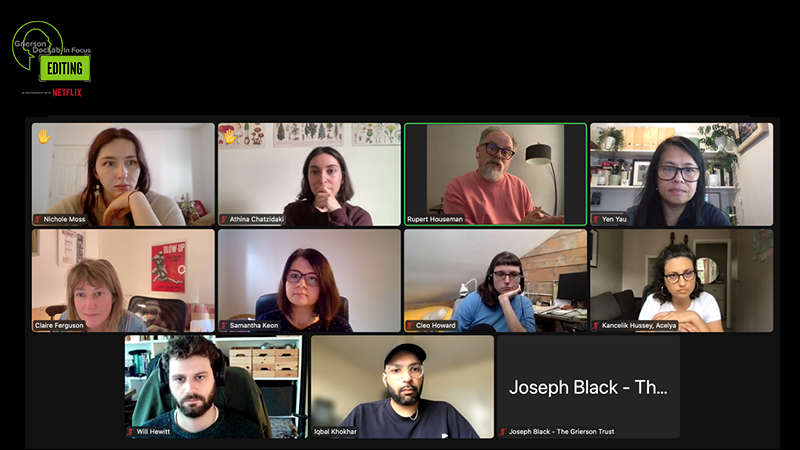 After some more gold dust tips and tricks, it is the end of the training. My edit awaits. I will take a short walk and some fresh air and get to it. I'll try to use those new tricks I learned earlier. I already have more questions for tomorrow.
Cleo Howard
Day 4 – Thursday, 22 September
As Thursday comes around, I'm at once feeling energised by the inspirational talks and challenged by the evening edits – having to overcome obstacles within Avid as I get my teeth into the task. It's been an amazing journey so far, meeting the guest editors and speakers after having watched their work feels like such a privilege.
Today we spoke with editors Sam Santana and Andy Worboys, both editors at the top of their game. We began by looking at fixed-rig single docs, which deal with such a wealth of footage and potential storylines, I wouldn't have known where to begin. It was incredible to hear Sam discuss his workflow, breaking down how to manage the rushes from each location and when to begin cutting. We discussed one of the first fixed rig feature docs Sam worked on called Gun Shop, which was rigged shortly after a mass shooting occurred in the same state, causing gun sales to skyrocket. As well as being really excited to find and watch the film itself, we had a really insightful discussion around the moral and ethical challenges of making a film amidst difficult and controversial issues, and how and when to remain impartial.
After watching clips from The House of Assad, the conversion continued as we discussed the different modes of storytelling, breaking down past and present tense in the edit, and the use of cold opens. Sam went on to discuss the human skills needed to communicate with producers, commissioners and directors. He told us of the need to include the geopolitical context in his edit for The Figo Affair, and how as a Spaniard, he was able to add a deeper understanding of the politics that are intertwined within Spanish football teams. He explained how he navigated this with the commissioner, which was fascinating to hear about.
Post-lunch we then went on to meet Andy Worboys, whose films Tell Me Who I Am, Untouchable and Hillsborough had been on our watch list. I was particularly moved by Hillsborough and had questions for Andy. We discussed the nuanced approach to editing such a sensitive and emotional subject, especially for the families that were still embroiled in the court case. Discussing how to navigate emotionally heightened subjects, while also working with such a difficult archive with so much embedded trauma, has left a lasting impression on me and was extremely helpful to discuss. We went on to discuss the use of genre as an edit approach in long-form documentary, how and when to use reconstruction, and ideas of fair usage.
After day four, I'm feeling super inspired and motivated – I can't wait for the next few days, and I'm just beginning to absorb how pivotal these talks will be for my future work and informing my path from here.
Will Hewitt
Day 5 – Friday, 23 September
Friday was our 5th day of Grierson training so by this point everyone is very aware that the week has been nothing less than transformative. It's full immersion in documentary editing with only sleep punctuating in between so you can fully finish processing your thoughts and learnings from the day. It was great therefore to start today by engaging a different part of the brain with David Thomas and his finance training. David is an excellent educator with a clear and kind pragmatism, and he teaches the essential fundamentals of finance for creatives. I've been a sole trader, PAYE and full-time employed, but that doesn't mean there weren't questions I'm still afraid to ask – so this was an opportunity for those. As a visual person who hates numbers and words, I learnt a lot in this session that'll keep me organised in the future.
While we were in our first workshop, Claire Ferguson had taken the morning to watch the rough cuts for our 10-minute films. The feedback was really enlightening to hear, and the main point I took away was to not be overly polished in your early stages of assembling, but to make sure you're getting the core structure of the story into the timeline. You shouldn't be afraid to show a work in progress as you're creating the building blocks for a good edit, once you begin to finesse and refine it becomes a lot harder to unpack it when required. Feedback is an excellent resource and when it comes from Claire Ferguson you listen and try to pocket every word. A lot of us trainees were Avid luddites at the start of this week but are now getting the hang of it. Through the working lunch, we had the valuable technical support of Avid trainer Nigel Honey.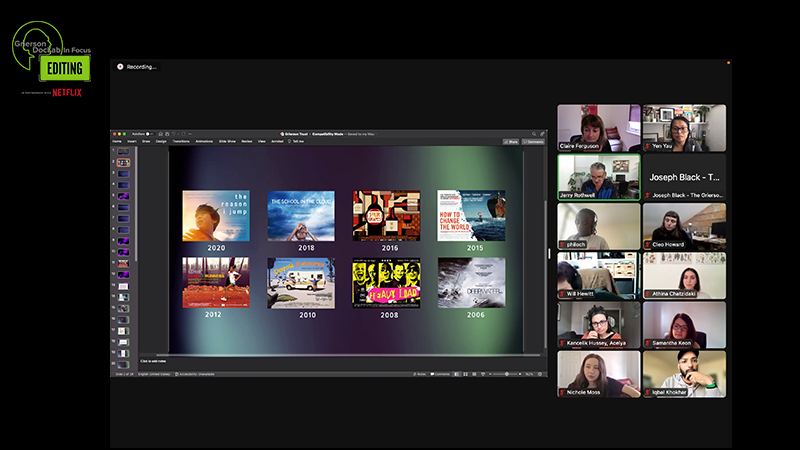 I was beaming for the afternoon as we had a Masterclass with Jerry Rothwell, Director of The Reason I Jump, a film that changed my understanding of autism and our place in the world. The film is an immersive and sensory experience that for me has set the bar for what a contemporary documentary can achieve – safe to say, I'm a fan of Jerry's work. It was wonderful to hear about the production process. It's always hard to imagine how people come up with such thought-provoking and considered films, and it was encouraging to hear that the idea went through various developments on its journey and was created via a process of exploring different ways to tell the story. I found it insightful to hear Jerry and Claire converse with each other, alluding to some themes of their current project. What I really got a sense of in this session was the importance of dynamism and communication between director and editor.
We finished the day with Dennis Mabry's workshop, having an open and flowing dialogue about where we were at with our edits, both technically and creatively. I really enjoy these sessions as most questions being fired out from the group are ones I've been struggling with myself, so it feels like we're all collectively getting our needs met and confidence boosted, which we need as we know there's a heavy night of editing ahead for the fine cuts tomorrow! Dennis is again a skilled and patient communicator; it was inspiring to get an understanding of his personal progression to Assistant Editor, and then to Editor.
I've honestly loved having these riveting five days – you can see and feel how much you're improving while working through the edits and hearing from passionate speakers. I'd use the phrase 'pressure makes diamonds,' but that would be wrong as it's equally been a very calm and supportive environment as well. I cannot wait to see everyone in person next weekend for the final two physical days in Birmingham. I'm immensely grateful for this opportunity from Grierson & Netflix and can't wait to see where it leads our careers in documentary.
Athina Chatzidaki
Day 6 – Saturday, 24 September
The epilogue of the training week was an opportunity to reflect on the impact all the speakers had on us. The film I cut during the process is the best indicator of my growth and all the things I absorbed. Now is the time to share our work with the team. I've relished cutting it, and I'm really eager to hear how it's received as well as to see the ways with which everyone tackled the same material. The cuts I saw had a distinct angle and a voice to them. As for my own voice, through the peer feedback I understand it was clear to others, which is a great source of motivation. Discussing our cuts made me feel happy as a clam in high tide. To me, sharing our work marked the culmination of our time together.
Subsequently we are given an exercise to prompt us to interrogate our structural decisions. It's been a very fertile week, the fruits of which I can already spot whilst re-examining my cut. 'Less is more'. It's one of the most valuable takeaways for my transition from short-form to long form editing. There's a lot of things I learned and some habits of the past I will have to unlearn moving forwards.
My curiosity grows as I come closer to my individual feedback session with Claire Ferguson, who has been our guide throughout this week. I'm proud of my work, but there exists an undertow of doubt until I hear her assessment. Few phrases could encompass encouragement as well as what she concluded our session with: 'Keep doing what you're doing'. Hard work getting acknowledged pulls at my very heartstrings.
I dedicate the rest of the evening to polishing my cut and pondering where I stand and where I want to go. The edit suite has been a lonely place for me but now I feel I found my tribe.
Nichole Moss
Day 6 – Saturday, 24 September
After a late night of export troubles, I finally had a finished cut ready to show whoever I was going to be partnered with. The morning kicked in after a coffee and I had the luxury of watching Will's cut! It was a great experience to watch the same rushes I had access to repurposed in a way that is specific to Will and, in general, someone other than myself. I felt as though I had a good grasp on what archive we had available to us, but seeing little moments and glimpses of story that I hadn't placed value on shine in someone else's work was really eye-opening.
At one point I asked Claire a question. I specified how I'd used a certain bit of footage in a particular way, which prompted Athina to let me know she'd used the same footage in the same way! We went on to watch each other's cuts out of curiosity and I then had another piece to compare mine and Will's to, and that sense of magic grew. Particularly as Athina used a track from Dark, my favourite TV show, which revealed the fact we have a mutual love for the series. It was such a unique way of getting to know someone.
Yen made the decision to restructure the day's schedule to allow more time for 1-to-1 feedback with Claire. I think everyone was grateful for that because her feedback was so useful for moving us on to the next stage of the edit. After having watched a rough and fine cut, Claire was able to help me move past the crossroad I was well and truly stuck at.
Now, I'm about to submit a final version of that edit so that the rest of the group can watch it, and its current form has undeniably been informed by the week's schedule and the tips, tricks and advice we've received from the guest speakers. I also wouldn't have been able to get to the finish line if it wasn't for the fast G-Tech drive we were able to work from. Having the storage space to work from a single drive took away the pressure of juggling multiple, and you can tell Grierson was always one step ahead in helping and providing the best tech where they could.
I've massively enjoyed the Grierson DocLab In Focus: Editing Scheme's week of training, and I'm very much looking forward to meeting everyone in person this weekend. Thank you to all of the front and behind-the-scenes people that make Grierson such an amazing organisation! It's been everything I hoped for and more.
In-person
Samantha Keon
Day 7 and 8 – Saturday, 1 and Sunday, 2 October
After an inspiring week with the group online, I was really looking forward to travelling to Birmingham to meet everyone in person! After checking in, it was amazing to come together for a delicious feast at a Chinese restaurant and get to know each other a little more.
Saturday morning, we met face-to-face with the wonderful Claire Ferguson, who had led our training and provided us with many interesting insights into life as an editor. As we settled in, Claire shared more kind words of encouragement and told us this weekend was a celebration! Looking around the room, I felt very honored to be part of the group and excited to see where this journey will take everyone.
The time had come to watch our edits. We were joined by Andy Worboys, another incredible editor, and Alison Small, Head of Training at Netflix. I sat down with a mix of nervous butterflies and excitement to see how each of us had tackled the task. It was fascinating to see the different approaches everyone had taken and how each of us had brought their own interpretation to the rushes. After absorbing feedback from the group (and clutching the Netflix merch Alison had kindly brought) we wrapped up the day swapping stories over a curry.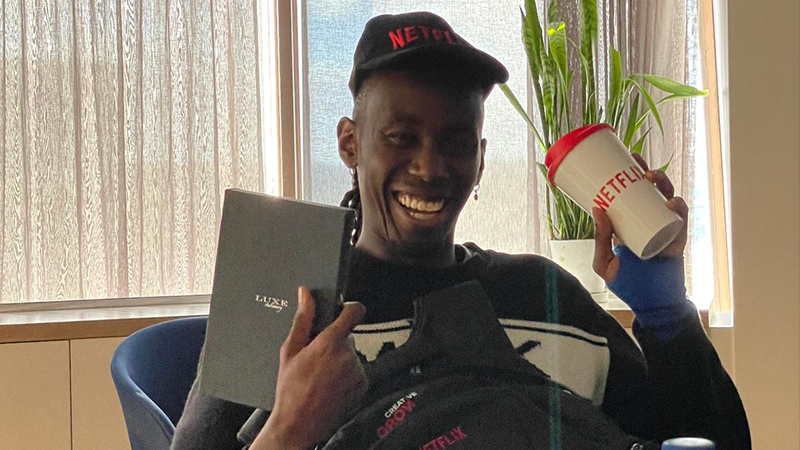 Sunday morning, and there was still lots to learn. We started the day watching Guilty Pleasures, a heartwarming and hilarious documentary about love told through the lens of Mills & Boon. Afterwards, we had the chance to speak with the director Julie Moggan, where we got an insight into the process and her relationship with Claire as the editor while they teased out the film's narrative threads.
After lunch, we got to speak with two alumni of last year's program. It was wonderful to hear Christie Allanson and Lwimbo Kunda share their experiences and to see how their careers had developed since being on the scheme. Our final session was a motivating talk with Joby Gee, an editor with experience working on a range of subjects and styles of documentaries. It was interesting to hear Joby's different processes and motivations for each project, and it was a great way to wrap up the weekend.
Both the week online and the weekend in Birmingham were an unparalleled opportunity to pick the brains of incredible editors and directors. I am sure I will carry the lessons I learnt in these sessions with me for the rest of my career.
I want to thank everyone at The Grierson Trust and all the speakers who gave their time to this amazing experience. I cannot wait to see what next year will bring and to see everyone again at the Grierson Awards in November!