December 07, 2022
The Production Management cohort talk through their online and in-person training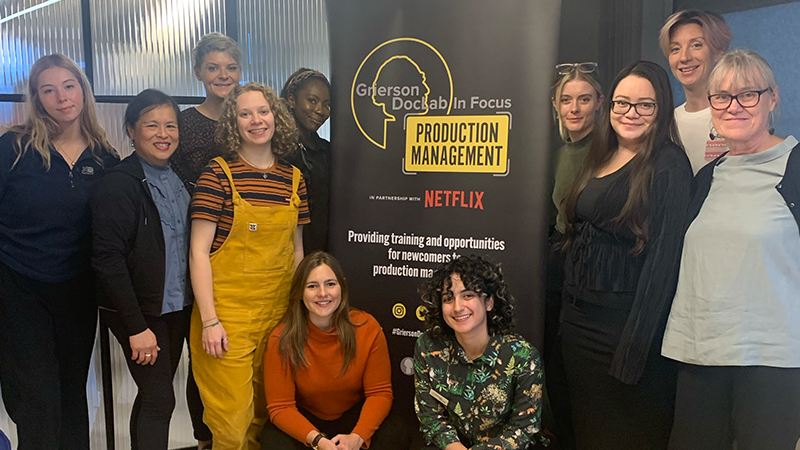 2022 Grierson DocLab In Focus: Production Management trainees with trainer, Birte Pederson, Grierson team member, Georgie Hollins and Director of Training Programmes at The Grierson Trust, Yen Yau.
Online
Heidi Carmichael: Day 1 - Monday 17 October
Excited is an understatement. I'm sure I speak on behalf of our whole group when I say how much we've been looking forward to our training week. Taking place over Zoom meant a shorter commute from bed to… sofa (I should really get a desk). Laptop, notebook, pen and a strong black coffee then sure enough, we had begun!
The day started with an intro from Yen and Birte, including an overview and a Menti quiz for our hopes and expectations for the week.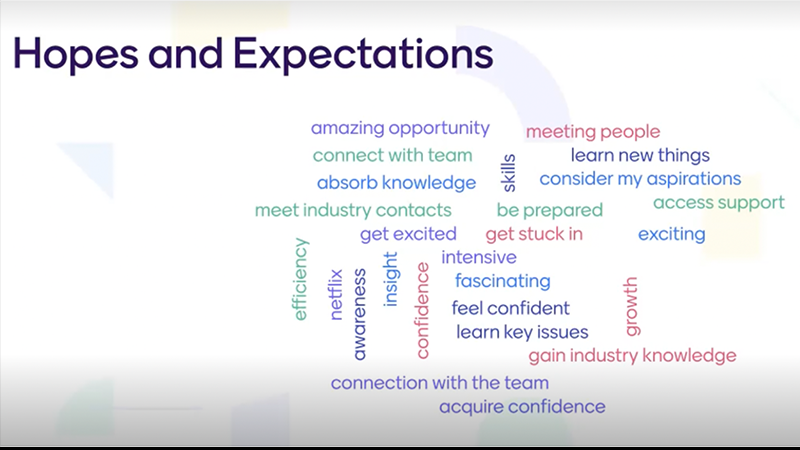 Carol Nahra - a documentary journalist, programmer and lecturer led the first session with an overview of the different documentaries and various subgenres that exist within the current landscape. Watching clips, we studied documentary examples including:
Access driven Bring Me Back to Life
Autobiographical Evelyn
Archival Uprising
Observational Hospital
Unfolding archive Trump: An American Dream
It was great exploring these pieces, as well as their creative and post-production processes. We learnt that sometimes the original concept can change throughout filming, depending on your subject and footage and ultimately affect the final delivered product. We also discussed the rise of 'Desktop Documentaries' such as Don't F**k with Cats: Hunting an Internet Killer, and Trust No One: The Hunt for the Crypto King.
After a short break, we then delved into the world of formats and their ability to be sold on as valuable programming templates for international audiences. We broke out into pairs and a fun (and definitely not terrifying) task ensued, where we had to pitch an existing, successful TV format as a new show. Valuable takeaways of importance for formats were:
What's the magic that will make it work/What does an episode look like?
What is the emotional hook?
How is it shot/how much does it cost?
Hard construct e.g Wife Swap or soft construct e.g The Undateables
Inclusiveness and diversity utilising The Diamond Initiative
Carol revealed herself to be a powerhouse of knowledge and insight into the evolving world of documentaries. What an incredible start to the week! Carol's top tip: Check out Bertha DocHouse's podcast episode with Evelyn director Orlando von Einsiedel.
After lunch, Birte led us through how a production office works, including elements such as team structure and the differences and similarities between the editorial and production teams.
We also had the chance to break out into pairs and work on a case study which explored organising a recce and taster tapes. Key thinking points were logistics, budgeting and considerations for Albert (Sustainable Production Certification).
Overall, it was eye-opening to see just how collaborative a production office is and how all roles are vital to delivering a successful project.
Sara Jimenez Criado - Production Manager at Caravan Media gave our last talk of the day, taking us through the Production Secretary role and potential progression for our careers in the industry.
She discussed her experiences working on Running with the Devil: The Wild World of John McAfee and how a sudden turn of events meant a last-minute detour and change of location! Sometimes the nature of your role and the particular documentary you're working on can require on-the-spot decision making and creative problem solving. Taking changes in your stride and being flexible is a huge asset when being part of an adaptable team.
Valuable insights into being a beginner were also highly appreciated. Attention to detail, multitasking and being accountable were a variety of points touched upon. Sara stressed the importance of learning on the go, being curious and that there are no stupid questions. Ultimately, a production office will inevitably ebb and flow with busy and quieter periods. Being productive and efficient with your time management is the key to success!
Sara's top tip: Take initiative and be proactive in your career. Say YES to opportunities.
Phew! We wrapped our first day with a review of the amazing sessions and speakers. Yen and Birte provided time for us to digest our thoughts and observations and it was interesting how each of us had unique questions and observations as a group.
Orla Lawton: Day 2 - Tuesday 18 October
Day two kicked off with a session from Yen who provided a general overview of the screen industries, including a look at an ownership organisation chart of the screen industries in the UK, Europe, and the US; an explanation as to why the UK is a successful global production destination; and finishing with a look at the new technologies and focuses being considered as the industry moves forwards into the future.
This session was followed by a chat with Donna Blackburn – Head of Production from Bigger Bang TV, who took us through her extremely diverse career spanning over 23 years using an interesting seven-minute showreel. She also focused on the differences between working in a small company versus being part of a bigger one. The most fascinating story was when she revealed she had been part of the production team filming the dig where Richard III's remains were found.
After this, Birte Pederson took us through the process of planning a simple call sheet by giving us a practical case study to work through. She also showed us an example call sheet for a complex shoot taking place in Antarctica for the documentary The Polar Express, which for me was completely fascinating as getting a real-life insight into the planning of complicated logistics around getting to an extreme location, and liaising with local fixers in a foreign country is right up my street!
Senior Line Producer Kirsty-Urquhart-Davies and Senior Production Manager Becky Claridge from Nutopia were up next, which was my favourite talk so far. Both took us through their career from the beginning up until working at Nutopia. I was keen to hear about their experience working on projects abroad in interesting and unusual locations; what it was like adding the element of a major celebrity, their entourage and sometimes their production companies into the mix. It was mind boggling.
It was captivating to hear of how complicated a huge production like Pole to Pole or African Queen can be to work on, and especially how the tasks might be split when working within a larger team of people. They gave super helpful advice on how to apply for jobs at the beginning of your TV career – 'sell, sell, sell'. Also, as they are two women with young children, it was great to hear that a work/life balance is possible and that with a little bit of planning and careful selection of projects, this balance can be found in the industry, even if you are a working mother.
Finally, Birte took us through the sometimes awkward but necessary part of working in production – the money bit. A hilarious roleplay situation ensued between a pub landlord and the production team aspiring for filming permissions to film in a pub, which taught us all the valuable lesson that awkward conversations and haggling just sometimes have to happen to get a production off the ground!
That brought day two to a close – another day filled with gold dust advice, absolutely ace production managers and invaluable lessons from within the TV world!
Lauren Devine: Day 3 - Wednesday 19 October
As a lifelong travel-lover looking to gain international shoot experience as a priority in my production management career, today's first session was a valuable eye-opener. Louise Murray, Director of Production at the brilliant Minnow Films, shared her experiences of filming abroad - specifically working on Minnow's award-winning reality-military format SAS: Who Dares Wins. The detailed anecdotes Louise shared with us touched on everything from contributor welfare and finding the right fixer abroad to the clerical minefields of permits, visas and vaccinations. Hearing Louise speak with such palpable passion and enthusiasm for the work she has produced for Minnow over the years was truly captivating – my haphazard notes and I could barely keep up. We covered every conceivable production-focused consideration of shooting in overseas locations, and the breadth of content Louise covered amounted to an immeasurably helpful introduction to what working on overseas shoots as a documentary PM might look like.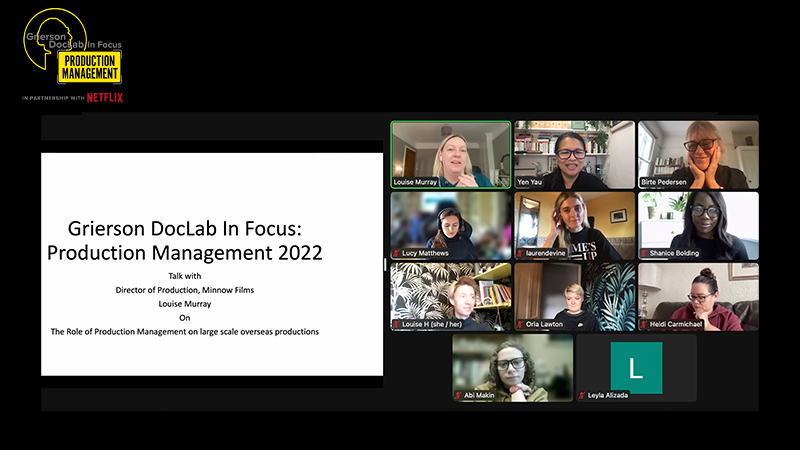 Our first toolkit session of the day with the inimitable Birte included a practical scenario exercise, designed to test our locations brains. Working through an imagined brief from a production logistics perspective was really interesting, and especially well-timed to follow on from our locations-focused session with Louise.
Continuing the day's locations and filming abroad theme, in our next session we heard from Zoe Glover of Atlantic Productions, who discussed her work on Lost Treasures of Egypt for National Geographic. Hearing about preparing to film in a location as far-flung as Egypt – from the importance of a thorough location recce to the specific logistics and access considerations of filming on archaeological dig sites – was utterly enthralling and affirmed my already strong aspiration to work on these kinds of projects. Zoe and Louise were a joy to speak to, and I remain eternally grateful to them both for allowing us to pick their brains.
Our final toolkit session of the day with Birte focused on risk assessments and insurance, covering everything from release forms and public filming notices to carnets and Covid protocols. During the toolkit sessions I find myself continually referring back to time I spent recently at Hardcash Productions as a runner/production assistant, and I'm exceptionally thankful to Katie O'Toole – Hardcash's extraordinary production coordinator – for the insight I gained into different Hardcash programs in various stages of production, as this has provided an invaluable frame of reference for this week's Grierson training. The amount of information we're able to gain from each session is honestly astounding – I'm surprised my brain can keep up, but by the end of each day I'm increasingly excited to put this knowledge to use working in production.
Lucy Matthews: Day 4 - Thursday 20 October
We started as always with a morning catch up over breakfast on Zoom, discussing what the day would bring. The day was focused on the final stage of production: the edit and delivery.
In the morning we had Windfall Films in to talk about The Fifteen Billion Pound Railway. It was interesting to hear about the making of this title from the Line Producer and Production Coordinator. It was fascinating to hear about the key risks involved, navigating the agreement with TfL in order to get a close insider view of the development of the railway, and ensuring they can capture key emotional moments in the development. We got to see the edit schedule used for the final series; it was really interesting to hear how it changed and what factors will influence schedule changes.
We then had a session with Birte going through the post-production process. We learnt the common practices used for wrangling the rushes, the risks involved and the importance of multiple backups. We went through key risks involved with the edit, how to find the copyright for everything featured in the film, and the importance of clearing all the copyright. She highlighted how it's important to think about this during production, as something small such as a brand on a presenter's t-shirt can cause a lot of issues blurring out in the edit. We finished the session with a fun activity to think about how we would plan the edit, working in twos to decide how we would move it around in order for the final cut to be accepted by the channel and deliver the final master file on time.
After lunch, Yen got us all to pick out two things from our home: something which reflects how we feel to be on the scheme, and something which gives us great joy. It was a lot of fun getting to know everyone on a bit more of a personal level, my favourite was Orla's golden trainers, which we got to see at the awards later in November. I picked out a ring which said, "Peace and Love", and my dog Vinnie who brings me great joy (when he's being good).
We moved on to a talk with Alex Brunati about his experience as a Line Producer, specifically looking at Running with the Devil. He explained to us how they organised the shoots abroad during the height of Covid, and working remotely while using local crew in each country. He spoke to us about how he worked with the Director to let the story come first, and how to plan the shoot to capture the story.
Finally, we heard from Matt Tegg and Ivana Capoldo from Netflix on delivering to the streamer. It was interesting to hear how Netflix gets involved in each stage of production, their input and key deliverables. They particularly focused on post-production, as this is when Netflix gets most involved towards final delivery. It was interesting to hear about deliverables, contracts, and copyright agreements as this took me back to my project management background and Law degree.
In all, it was a really interesting day, hearing from passionate speakers and learning about post. It was interesting for me to hear about the legal risks, coming from my law background, and how they effect the delivery of a documentary.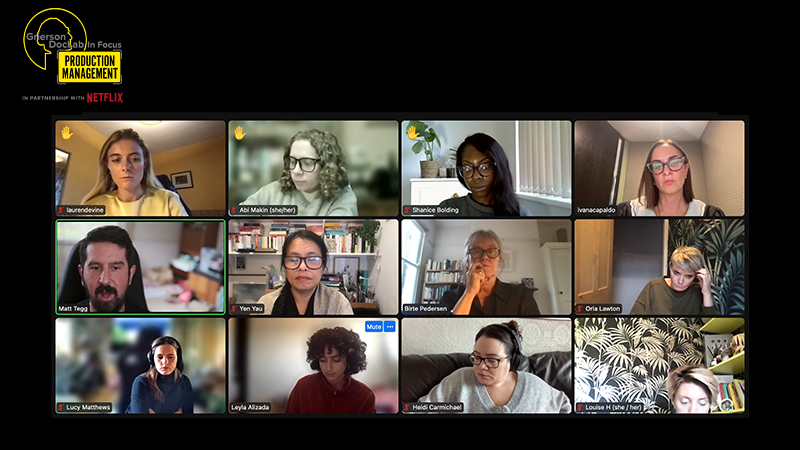 Abi Makin: Day 5 - Friday 21 October
If you'd had asked me a couple of weeks ago how I would fare on a 6-day intensive Zoom course, I probably would've replied "not great". My previous career in theatre is not one that involves frequently looking at computers, or waking up much before 10am in fact.
And yet here I am, at 9am on a Friday, bright-eyed and bushy-tailed, ready to take on the day. We kick off the morning with an informative session from David Thomas about all things freelance. PAYE, pension pots, and business expenses might not make interesting reading for everyone, but the whole cohort is hooked. It's a speaker-heavy schedule today, so we have brief breaks to stretch our legs and try to catch glimpses of Lucy or Louise's dogs through the screen.
Our session before lunch is led by Grace and Iain from Netflix. Just as lovely as when they hosted a welcome meeting for us in London last week, they ran through the practicalities of how to deliver legal paperwork to the world's biggest SVOD platform. Stick with me on this, it was so interesting. The level of detail was second-to-none and we all couldn't get over how informative it was in the debrief.
After lunch we move onto a highly anticipated speaker Alex Cowan, an Archive Producer who's here to explain the fascinating world of using archive footage within documentaries. He was a true fountain of knowledge and could answer even the most hypothetical of questions.
As we close the laptops on our penultimate online training day, I'm reflecting on how brilliant this week has been. The most glaring proof of that is how much my confidence has improved from Monday, when I couldn't have told you the role of a Production Secretary let alone a Production Manager. Every session has been so well thought out and it's beginning to dawn on me just how lucky the eight of us have been, meeting and learning from industry professionals at the top of their game.
Everybody who has spoken to us has been so accessible and it's so exciting to think where we're all headed in the future. Bring on the final online day!
Shanice Bolding: Day 6 - Saturday 22 October
The Grierson Trusts Top 5 Tracks of the Day:
Session #1
Lil' Blu Feat. Shanique - Say Yes
Phoebe and Tommy-Lee who are alumni from last year's production management scheme joined us for a Q&A session. They both kindly shared with us what they learnt during their placement, from handy tips to their career aspirations and more.
One of the many key takeaways for me was to 'say yes' and remain open-minded to the various types and genres of documentaries we get offered to work on that encourage us to put our transferable skills into practice.
Session #2
Ed Sheeran - Don't
Yen delivered a CV building session. Some of the topics included how to stand out from the crowd, what to include, using power verbs effectively and choosing layouts.
The 2 'don'ts' I took away were:
Don't diminish yourself
Don't sell yourself short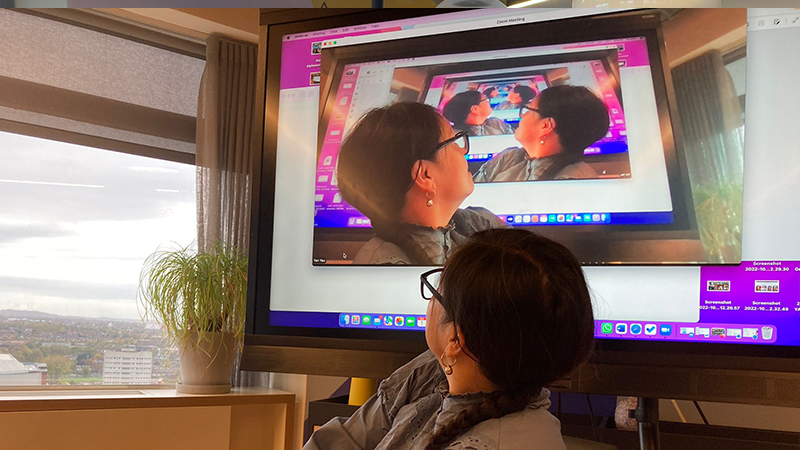 Session #3
Abba - Take A Chance On Me
Birte showed my peers and I the various ways we can find work in the industry. It was great to know there are lots of resources and pages out there that will be useful when it comes to looking for work in the future.
Just on a reflective note, I'm so thankful that The Grierson Trust, in partnership with Netflix, gave me with the 'chance' and opportunity to step into production management.
Session #4
Salt-N-Pepa - Push It
As part of the scheme my peers and I will be matched with an industry mentor, which I think is amazing because as Yen mentioned, our mentors are there to 'push' us out of our comfort zones, whilst also expanding how we think and act as our critical friend.
Close #5
Rihanna - Take A Bow
As a round-up to the week, I think Yen, Birte and all of the guest speakers that joined us, as well as Georgie and Hannah who were working behind the scenes to make our online training week come together all deserve to 'take a bow'.
I learnt so much during the week and feel honoured I got the opportunity to learn from industry experts. They all kindly shared their wisdom and knowledge of production management to us newbies.
We finished at 1:30pm and to top off a great day I went to the theatre in the evening to watch The Color Purple, the musical. It was a great production, and the cast were absolutely fabulous, they definitely deserved to take their bow too!
In-person
Louise Haines: Day 7 - Monday 31 October
Day seven and the first face-to-face meeting of the whole group! The earlier online sessions had made two things abundantly clear:
TV is so much more than filming content, and

finding methods of effective communication is everything.
So, it was fitting to be diving deeper into these themes in person: tackling more challenging case studies, getting the lowdown on post-production courtesy of Rowan Bray and Richard Knights of Clear Cut Pictures, and enhancing our comms skills with insights including diplomatic silence (!) from Ross Booker at 72 Films, and listening to your gut from Full Fat TV's Alasdair McClure and Gemma Kemp.
It's been brilliantly eye-opening to hear how production is the driving force in what we ultimately get to watch on TV. With a nod to 50 years of The Grierson Trust, I'll paraphrase the man himself to audaciously suggest that where "documentary is the creative treatment of actuality", perhaps "production is the actualisation of creativity" in today's market? However, there's no question that every stage is critical for broadcast success.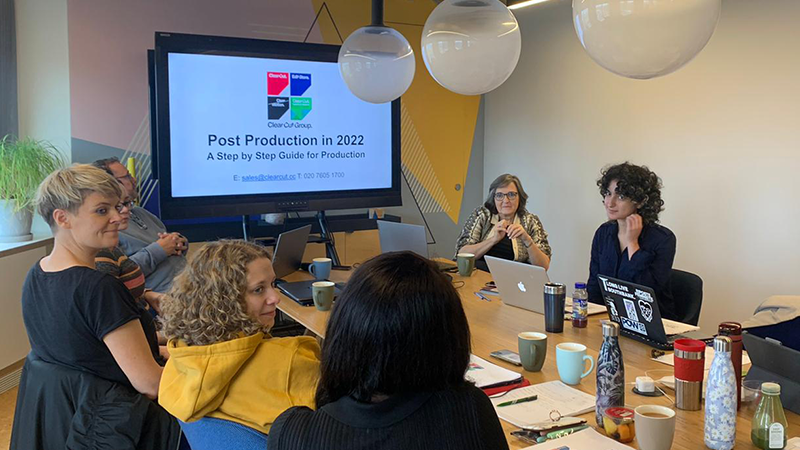 Rowan and Richard took us on the post-production journey from acquisition to delivery (and 22 steps in between!), with a chuckle about how much of an expensive iceberg 'do it in post' can be (sorry, not sorry, Editorial - we do still love you though). Some of our cohort have had a small amount of contact with the post-production world. Now we're all better prepared to develop knowledge, support productions, contribute to strong relationships, and keep things on time and on budget as much as possible.
From sharing Tech Specs to ensure deliverables are broadcaster-compliant, to not over-promising on Ed Specs when dealing with visionary and enthusiastic commissioning editors. We had an afternoon of stories of creative problem-solving, unexpected opportunities for Production Secretaries, discussion about the rise of hybrid genres, and examples of the many ways our career-changer skills can be put to good use in production.
In true drama-doc style, Ross at 72 Films took us on an engaging journey of overseas filming, foreign cast and crew, historical accuracy, sourcing diverse contributors and more for Rise of the Nazis season three. He emphasised the benefits of regular reporting on costs, for us Prod Secs to ensure Production Coordinators and Production Managers have what they need to manage the budget and using past experiences to inform future days on multi-shoot productions.
Ali and Gemma from Full Fat wrapped up the day with anecdotes loaded with tips for success. It was inspiring to hear about Ali's career change and see the evident success he has made of that and encouraging to hear from a regional production company making great programs. Six of our cohort are regional, and even one of our "Londoners" is far from central, so Gemma's story of moving away from London and still advancing her successful career was another inspiring moment.
Their advice included to try and get on location to enhance our scheduling and ability to empathise with the crew's position in the field. Having PA'd a short film recently, I really don't want to be carrying camera and lighting kit up five flights of stairs to a hotel room after a 12-hour day, and back down again in the morning - so why would anyone else! They encouraged us to work on different types of shows to learn as much as possible at each stage, and listen to gut instinct to know when we've more to learn or are ready to step up.
And those case studies? Going international bumped up our fictional crew from a twin bunk room on the sleeper train Scotland – to the possibility of private jet transfers to capture the Northern Lights in Norway. Sadly, the budget didn't stretch to attracting the tax credit, so a short haul hop and minibus it was. I'll see what I can do next time, folks!
Leyla Alizada: Day 8 - Tuesday 1 November
Our final instalment of our Birmingham trip started in Alphaworks, and it was particularly reflective.
We revisited our Menti questionnaire which we began in our week of online learning.
We began our session with Birte, who set us a challenge of answering a bunch of questions on what we've learnt over the course of the sessions, as well as handouts giving us an overview of Silvermouse, a web-based system specific to the BBC for completing production paperwork.
We then had a chat with Leigh Hewson, who works as a production coordinator, currently at Rogan Productions. During the coronavirus pandemic, Leigh switched careers from working as a cabin crew member and provided a lot of insight on beginning a career in production management. What was particularly noteworthy is when he drew parallels on what skills from his previous career were transferable.
Something that was especially interesting was that after gaining a bit of traction in his career, he managed to work at two places at the same time, and navigating that had its challenges but he ultimately found it rewarding. He also went over the importance of liaising with Editorial, and what that might mean in last minute scenarios which may be a little ambitious, such as recreating an advert for parody.
After our session with Leigh, we began an in-person session with Jane Zurakowski, who is a Talent Manager for production management roles in unscripted within BBC Studios. Her presentation was incredibly thorough and went over all the facets that the BBC look for. It was astonishing to hear about her career development from production management to where she is now, and the pathway she took for this progression.
We rounded off the session with more advice on how the BBC Talent Pool is run and what we can do to maintain a relationship with them.
Overall, this was a wonderful curation for those newer to the industry. I feel as if it was the perfect way to round off our intensive training periods as it is incredibly important to receive a variety of perspectives relevant to our trajectory within TV.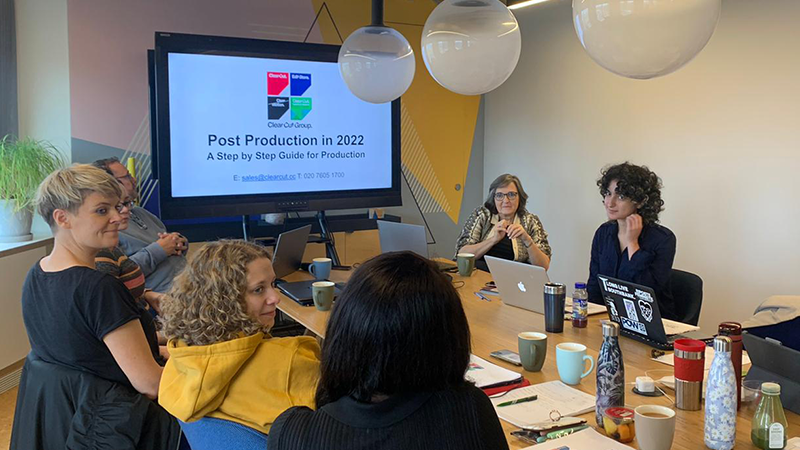 Rowan Bray from Clear Cut Pictures with the Production Management trainees.