May 26, 2022
Applications now open for leading industry training with The Grierson Trust and Netflix
Grierson DocLab In Focus is now open to aspiring assistant editors and those who want to work in production management. Both courses include a three-month work placement on a Netflix production.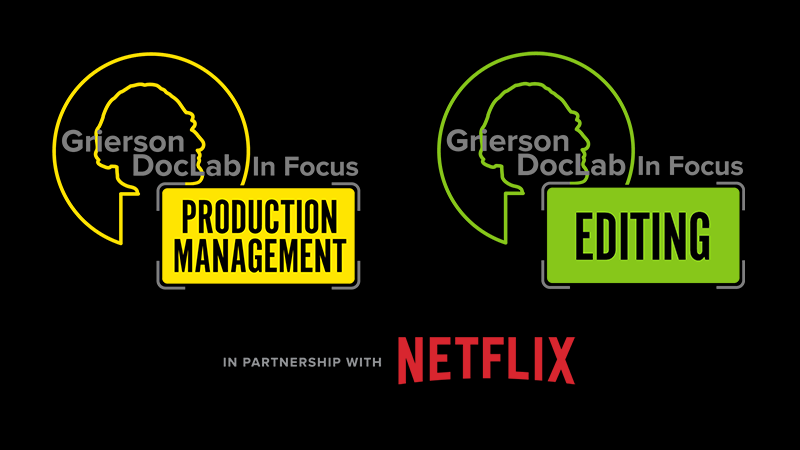 Grierson DocLab In Focus: Production Management and Editing, in partnership with Netflix
Both training courses will prepare each successful applicant for a paid three-month placement, working on a Netflix documentary production. Coupled with ongoing support from The Grierson Trust, trainees will have access to networking events, plus professional development opportunities through a programme of webinars. They will be assigned an industry mentor and all trainees will then join the Grierson DocLab Alumni group which provides continuing support through its network.
Applicants must be aged 18+ with the right to work in the UK. See below for further information on eligibility for the respective schemes.
Jane Callaghan, Managing Director of The Grierson Trust, said: "The Grierson Trust is recognised as one of the industry's leading training providers, specifically supporting under-represented groups into documentaries through our successful DocLab schemes. This DocLab In Focus partnership with Netflix enables us to continue to support fresh talent into the industry, focusing on the roles where it is needed most. In doing so we are doing our bit to unlock new voices and support the wider industry skills gaps from the grassroots up."
Kate Townsend, Director, Original Documentary Features, Netflix said: "We're delighted to support The Grierson Trust's work to widen access to documentary filmmaking.
"Editing and Production are key parts of the creative process, and we are proud to support training that develops these vital skills. This partnership is part of Netflix's wider work to improve representation at all levels of the creative process and spread opportunity right across the UK."
This scheme is for individuals who want to pursue a career within the production management area of documentary programme-making. It is specifically designed for people who have no previous experience in the television industry, as well as those who may come from a different part of the creative industries and is open to individuals with more than three years' experience in a role with transferable skills gained in other sectors and job roles. For example, events/project management, travel, logistics, hospitality and finance. Check out the profiles of last year's group to get an idea of their different range of career backgrounds. This is not a graduate scheme, but suitable candidates may be returning to work after a break or looking for a career change.
There are eight places available on the scheme. The programme will involve an intensive schedule with industry speakers covering a wide range of topics including budgeting, cash flow and production paperwork; health and safety and risk assessments, managing and looking after personnel; understanding deliverables; the importance of diversity and inclusion on a production; as well looking at when to step up to the next level in this career path.
The editing programme also has eight places available, in this instance for those with either post-production experience who are looking to step up to Assistant Editor, or those who have not progressed through a more formal editing career pathway. Check out the profiles of last year's group to get an idea of their different range of career backgrounds. The programme will involve a rigorous schedule with leading industry speakers covering topics such as: managing the relationship with the director; insight and case studies from editors about how they have developed their respective careers; how to enhance the story and challenges in the edit.
The programme will involve honing technical skills via practical tasks such as sync mapping, grouping and exports in Avid, to learn about the art and craft of narrative editing.
Candidates for the editing scheme are expected to have proficient editing skills at the time of applying, whether on Avid, Premiere Pro or similar software. They could be self-taught, have learned through training or learnt on the job. It should be noted that the scheme will be taught using Avid and it will be expected trainees will understand terminology and be able to action the daily tasks set on the placement. Each successful trainee will be provided with a one-year Avid license, supplied courtesy of course partners, Avid.
Trainees will be loaned a laptop for the training weeks, as well as be given access to rushes to undertake an editing exercise to embed the learning over the course of the training weeks.
Margarida Cartaxto was one of the inaugural 2021 Editors cohort. Encouraging others to apply, she explains how the programme and her placement ­changed her career: "As an Edit Assistant, I had the technical background aspect covered for my placement but what truly changed and shaped this entire experience for me was the opportunity to be involved in the creative side of things. I was working alongside the incredible and highly experienced editor, Joby Gee, who welcomed my opinions and would take them into account when shaping the story. It was truly an exceptional experience. This scheme and placement changed my life. It opened so many doors and opportunities for me that I wouldn't have had any other way. I met incredible people, learned a lot about editing and telling stories, and even got a BFE nomination for the Michael Johns Award for Best Outstanding Assistant Editor 2022."
The Trust particularly encourages applications from groups currently under-represented in the industry, including but not limited to; disabled people; those from minority ethnic backgrounds; people from the LGBTQ+ community; and those from lower socio-economic backgrounds. We also encourage applications from candidates in geographical areas across the UK that do not have many opportunities in the screen industries. This is in line with the positive action provision of the Equality Act 2010.
Applications for both schemes will close on Friday, 8 July 2022 at 5pm.
Read full details on each scheme: